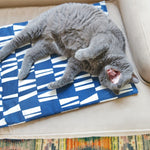 The Catnip Mat: Now longer and refillable!
The Janery Catnip Mat cat bed has been updated for the new year:  it's now longer and refillable!
It's long been one of my most popular items, but over the years customers have asked for a refillable version.  My cat, Aretha, thanks you for your feedback.  She gives the new Catnip Mat  two paws up!
Now, if you want to add fresh catnip after washing, there's a little velcro opening in the side.  This makes it extra irresistible for your cats.  I also made it longer for those cats who really like to stretch out.  This idea came from a few customer photos I saw where cats were stretched out longer than the Catnip Mat.

Speaking of customer photos, I'd love to see yours! You can email them or share them on Instagram with #janerystyle so that I can see them.  
PS:  Now, when you purchase a Catnip Mat, you can add a Catnip Log for just $10 more.  The 10" oversized cat toy is long enough for even the toughest tomcat to grab and kick all at the same time.