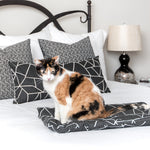 Crown your home with our new Gemstone Collection!
Meet the Gemstone Collection, our newest line of pet cushions, pet beds, and throw pillows.
Deep blue Sapphire and vibrant Emerald warms modern metals. Ruby and Onyx add depth and drama. Morganite (a lesser known pink jewel!) is a neutral blush of millennial pink. These gems know how to get along with just about every style, as long as you give them enough space to shine on their own.
I've designed the Gemstone Collection to be an accessory with bold, multifaceted patterns and rich, saturated colors that stay true wash after wash after wash. It's what happens when high style meets low maintenance and stays for coffee.
The Gemstone Collection is Janery's most brilliant work yet, with several changes to better suit your needs:
Our Throw Pillows are available with and without pillow inserts
Our Charlie Cushions have been resized to fit more dog breeds and sleeping styles
Our signature waterproof bed liners are now optional (though you save when you buy one with your dog bed)
Extra Charlie Cushion Covers and waterproof liners are available when you need them
Even better, we've partnered with a small factory in Detroit to make our waterproof liners tougher than ever.
Please note: Our premium waterproof liners are being sewn now, and are available as an optional add-on (if you want to pre-order to snag your 15% off!). If you pre-order the waterproof liner, we'll ship your bed now, so your dog can enjoy it as soon as possible. Then, around Dec 11, we'll ship your waterproof liner separately - and shipping's on us.
I'm so excited about this new collection because it reflects the months of behind-the-scenes work as Janery has grown in the last year, both in style and in our commitment to providing exceptional products to exceptional people and pets.
Want to know more about these changes, and what it's like to go from handmade to manufacturing? Stay tuned for my next few newsletters, where I'll pull back the curtain on the process of manufacturing a sewn product.
Your home is your castle. Crown it with something fabulous!
PS: When it comes to making your pet comfortable, size matters. Click over to our size guide and learn how to pick the perfect bed for your pet (and your home).