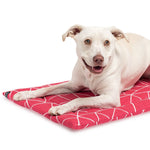 Meet the Janery Model: Lola
This summer, I was working outside at my local coffee shop when the sweetest little white dog came walking up with her dad.  Between her adorable face, sweet nature, and her smaller size, I knew I wanted to have her as a model for Janery's next photo shoot.  I asked her dad, who passed on the info to her mom, and they were all game for it.  During the shoot for the Gemstone Collection, Lola's mom brought her to my house for a few photos. It was her first time modeling, and though she was distracted by the smell of Amber (who was barking from another room), she did a great job!  I hope it won't be her last time as a model for Janery.  
I wanted to share more about the critters who model Janery's products, so I did a mini interview with Lola's mom and human big sister, who both shared more about this fabulous pup.
How old is Lola?
Lola is 1.
What was the inspiration for Lola's name?
We had a list of names that we've always liked, and when we met Lola, we knew that Lola was the perfect name.
How did Lola join your family?

Lola is a rescue puppy who came from Puerto Rico. We got her in January and she was almost 4 months old at the time. She came with a group of about 10 puppies who were picked up and brought to the US to a place called Homeward Trails in Fairfax, VA.
We are so grateful for her, as she brings a smile to our family every day. We have three children and had a beautiful Samoyed/ Retriever mix that we adopted at the age of two from an animal shelter in Alexandria before the kids were born. She was fabulous and an adored member of the family until she passed away 12 years ago. Our oldest daughter was very traumatized and has been pining for a dog all this time, but our younger daughter developed asthma and a very bad allergy to dogs that would trigger her allergy.
About a year ago, our daughters spent hours at a Starbucks drafting a document with all the necessary and helpful information on breeds, vets, insurance, cost, websites, etc. to start looking for a dog.
In the meantime, our youngest daughter was seeing an allergist and getting shots to outgrow the allergy. While my husband Bill was on a trip to Africa in January this year for 2 weeks for some work he does for charity, our daughter got the green light that she was OK to get a dog. The oldest set up a time and GPS mapped the location to go look at dogs to adopt. We didn't think we could actually bring one home. When we saw her, all 4 of us knew she belonged with us. We tried to Facetime Bill who was in Nigeria, and we sat at Homeward Trails for 2 hours until we got in touch with him to get the green light. We brought her home and haven't looked back.
What are some of Lola's funniest habits?
Something funny that Lola always does is she waits for us to let her inside and even whines, but once we open the door she goes back to play. She also barks back at us when we say "arf."
What's Lola's sleeping style?  Is she a curler-upper, a stretcher-outer, or a flop-down-anywhere sort of pet?
Lola sleeps in every position, but it usually depends on where she is. If she's in her small bed or on the couch, she curls up, but if she is on my bed or on her favorite bed, she stretches out. Sometimes she even sleeps on her back with her belly up. She is also fine with sleeping anywhere!
What kind of treats does Lola go crazy for?
Lola loves every kind of treat. Her favorites are beef jerky treats, but we can pretty much use anything.

How has Lola changed your life/your family's life for the better?

We are so grateful for her, as she brings a smile to our family every day!
Do you have other pets?
We have 3 guinea pigs and 3 fish.
If you could give prospective or new pet owners one piece of advice, what would it be?

I would tell new owners to be ready to potty train their pets - it is a lot harder and messier than it seems!
Lola was a fabulous model for Janery products and I can't wait to work with her in the future. This seems like a great start to your modeling career Lola!