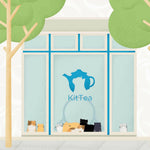 Retailer Spotlight: KitTea Cat Cafe
Today, I'm back with another installment of our Retailer Profiles to bring you the fabulous KitTea - the first cat cafe in San Francisco and the nation! We love KitTea's dedication to cat rescue and their work with local rescue organizations in San Francisco. 
 I was honored to interview Courtney recently. Here's what she had to say about KitTea:

 KitTea is a really unique business.  How would you describe it?
We are part feline/human sanctuary, where cats and humans come to meet and part cafe & tea lounge.
What inspired you to open a "Cat Cafe" and when did you open your doors for business?
I had many "mewses" that inspi-purred me... however, I was meow-tivated to create a space that could help both cats and people. I think it's important for people to have access to share space and interact with animals - it fosters empathy, compassion and serotonin (the happiness hormone).
KitTea began for me back in 2013 - which is when it was first established. It took a long time to work with the city around zoning regulations, as mixing cats and a cafe hadn't been done in the United States before.  We were finally able to open our doors to the public with a big hurrah in June of 2015.    
How has the San Francisco community reacted to the cat cafe concept?
We've had a spectrum of different reactions from extreme enthusiasm and love for what we are doing - to absolute confusion and people bringing their own cats to play in the cat lounge. Overall the community has been incredibly supportive and wonderful, we wouldn't be open for business if it weren't for all of the animal lovers in San Francisco and around the nation.
What does your store do especially well? What makes you stand out among the rest?
I might be biased, but I think we have some a-meow-zing cats, puns, friendly staff and some very unique merchandise.  We want everyone to feel relaxed and comfortable, so we keep the aesthetics zen and minimalist. For everyone who is visiting the cat lounge, we start them off with a bottomless cup of our loose leaf Japanese Green Teas from our partnered farm in Kyoto, Japan and this offering sets the tone for decompression and relaxation.
 In addition to the cafe, you also have a gift shop.  Alongside Janery's Catnip Cuddlers, what other types of products do you sell?
Our cat purr-chandise is the best in town! We sell cat tipis, socks decorated with cats, cat stickers, cat cards, cat books, wine for cats, cat keychains, cat earrings, a massive selection of cat lapel pins, cat toys and I cat go on... If it has a cat on it, we'll sell it!
Do you have your own in house line of products our customers might love? If so, what's the name of your in house line and when did you begin offering that collection?
We have our KitTea branded items for sale e.g. jewelry, shirts, sweatshirts, mugs and we recently created a run of t-shirts with Wonder Womeow on the front.
Do you have store mascots or permanent store pets?  If so, tell us about them!
We do! We rescued 11 cats that were at risk of being euthanized/special needs and they live in the space full-time and have their own colony. We have also taken on hospice cats, so they can live out their last days in a nice home, built exclusively for their needs and an in-house veterinarian Dr. Kelly.
What's the best way for customers to stay in touch with Kit Tea?
You can find us on social media! Our Instagram is the cutest around and our Facebook and website are also informative. 
Kit Tea Cafe
96 Gough St. San Francisco, CA  
Janery is thrilled to have KitTea as a retail partner, and not just because of their arsenal of feline puns.  :)  Whether you're a San Fran local, planning to visit or just love stalking cute kitties on Instagram, we think you will love KitTea.
All Images Courtesy Courtney Hatt / KitTea