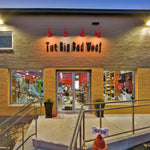 Retailer Spotlight: The Big Bad Woof
The Big Bad Woof is Washington DC's premier pet supply stores, offering a thoughtfully curated selection of holistic and raw pet foods, treats, and toys in their eco-friendly Takoma Park storefront. 
When Janery began to expand to retail locations, I knew that I wanted to partner with local small businesses that had values that aligned with mine - both as a human being and business owner.
The Big Bad Woof encapsulates everything I love about working with small businesses - their unique product offerings, their focus on their customers, and their commitment to helping their community and respecting the environment. 
And the best part:  You don't have to be a DC local to shop their amazing and unique product selection - they offer delivery in the local area, as well as shipping across the country.  


All Images Courtesy of The Big Bad Woof

After working with co-owners Pennye and Julie for several years, I'm eager to share a short interview with them.  Here's how The Big Bad Woof got started, and how Pennye and Julie are giving back to their local community. 
What inspired you to open The Big Bad Woof? 
We opened in March of 2005, and were inspired by our wolf dog, Artemis who suffered from Diabetes for a good part of her adult life. We had a lot of trouble stabilizing her disease, until we started to approach it in a more holistic way through diet and exercise. We then thought we could share the benefits of good nutrition with other pet parents and thought opening a small store dedicated to nutrition and green, eco-friendly products would be a perfect fit in our neighborhood. We were right and 16 years later we have more than doubled our store size and now serve more and more people through our local delivery service. We do ship to everyone and it is a growing part of our business model.

What does your pet store do especially well? What makes you stand out from the rest of the pack?

We have a great staff with very good customer service skills and product knowledge. Nutrition is our key strength, along with offering a wide variety of products not normally found in big box stores.
Note from Jane:  The staff is far more knowledgeable than at a big-box store.  When I visited before the holidays, they were able to make some great recommendations to help my cats acclimate to one another, including this hunting feeder.  It allows the kittens to get that hunting energy out at night so they don't take it out on the older cats!



I know that your community is key to your success.  What philanthropic work can we give you kudos for?
We are very active these days with raising donations and awareness for local pet pantries. These pantries can be the difference between someone keeping or losing their pets while going through difficulties with job loss, illness etc. We are very proud to help support these endeavors by collecting food and donations.

We normally donate to the Humane Rescue Alliance here in DC and we just did an in memoriam donation on behalf of a group of neighbors in honor of Maryland Rep. Jamie Raskin's son, Tommy, who died recently to the Montgomery County Humane Society.

Note from Jane: Learn more about The Big Bad Woof's community involvement here. If you would like to find a pet pantry in your area - either for assistance or to donate - start here.
What's been your best selling Janery product?
The catnip logs, kickers, and cat mats. They flew off the shelves this season, due to the excellent construction and design style of the line.
What initially drew you to our products? 
Local, local, local with a sophisticated design aesthetic.
Do you have a store mascot or store pet? Tell us about them!
Our store mascot is named Atticus, and he has been coming with me to work since he was 12 weeks old. He is a very handsome red Siberian Husky who is now 8 years old and still walks to work with me and greets special customers with a lot of love and howling.


Where you can find them:
Website: The Big Bad Woof
Instagram: @woofdelivers

Facebook: /bbwoof

If you're a Washington, D.C. local, be sure to check out their list of upcoming events.