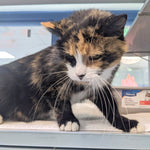 Shop for a Cause: Voodoo the Cat
Today I've got a cat rescue story in the making—and I'd love you to be a part of it!
Voodoo is a charming cat with a silky, long-haired tortoiseshell coat who is currently living at the Clarke County (VA) Animal Shelter.
Maple and I have gotten to know her during out weekly volunteer visits. The first time I opened Voodoo's cage to say hello, she practically threw her head into my hand, desperate for love and chin scratches. To say she stole my heart is an understatement.
Voodoo wound up at the shelter when the caretaker of her feral cat colony moved away. She has severe gum disease, missing teeth, and a terrible abscess in her gums. She requires extensive (and expensive) dental surgery to improve her quality of life.
I've decided to lead the charge in fundraising for her major surgery, since it's unlikely she will get adopted without having the work done. (And the shelter can have it done at a significant discount).
Once her mouth gets its makeover, I know she'll make the most wonderful lap cat for a local family. She's already such a lover — I can't wait to be around when she feels better!
To help cover Voodoo's medical bills, I'm donating 20% of every Janery purchase made from 11/20 to 11/27.
Shop for a gift this week - for a friend or yourself! - and you can be a part of Voodoo's rescue story!
*If you'd like to contribute to Voodoo's care, but don't need to shop, I've set up a GoFundMe for her.*
All funds raised will be donated to the Clarke County Humane Society specifically for Voodoo's veterinary care. I will be posting the receipts here and on social media for accountability and transparency. Any excess funds raised will go towards the care of the next animal in the most need.
I'm thankful I can harness the power of my business to give back in this way. At Janery, I don't strive to be just eco-friendly and ethical. I take every opportunity I can to give back to the community - and that's why this year's Janery holiday sale is going to look a bit different. More like "give a little, get a little."
As a handmade product business with ethical labor and premium quality supplies, I've had to make some tough decisions this year.
Supplies and shipping costs have skyrocketed.
The Janery customer community is growing quickly - I had to pause production to find extra hands
Taken together, these factors mean I'm unable to offer Black Friday discounts and sponsor families (or pets like Voodoo) in need this Christmas.
And I'm staying true to the reason I started Janery in the first place—to care for people and pets. Family and pet sponsorships it is!