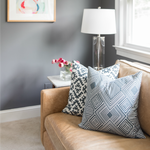 Shopping With No Regrets: How To Choose Fabulous Throw Pillows
Throw pillows are one of the easiest ways to change up a stale space, but not all pillows are created equal!
Follow these tips to avoid the most common mistakes made when choosing throw pillows or pillow covers for your home.
1. Opt For Removable Covers
Your home is fabulous, but it's also full of life. And life is messy!
Dogs jump on the sofa with muddy paws. Cats insist on curling up and shedding against your newest pillows (perhaps because you don't have a Catnip Cuddler?) Children throw pillows around with sticky fingers.
Fox Pillow / Catnip Cuddler / Hip Deer Pillow
Sound like your life? Just say no to pillows labeled "spot clean only."  Always choose pillows with covers that can be removed for washing or dry cleaning. 
2. Choose Zippered over Envelope Closures
Removable pillow covers are made with either envelope closures or hidden zippers. Janery pillows have always been made with hidden zippers in the bottom, because (in this case) looks matter.
When a pillow is sewn with an "envelope closure," two pieces of fabric are layered to make an opening in the middle of the back of the pillow. You insert and remove the pillow through that opening.
Envelope Closure on the back of a pillow
A lot of inexpensive handmade pillows are made this way. It's easier to sew, but then you can't display the back of the pillow and it never fits plump inserts as well.
Case in point: In the photo above, the corners of the pillow are not well filled. But if a larger insert was used, the envelope opening would stretch and gap.
Hidden Zipper Throw Pillow in Gray Phoenix
Invest in a zippered pillow covers so that both sides can be displayed, and so you can use an appropriately oversized pillow insert.
Speaking of which . . .
3. Size Up on Pillow Inserts
Don't subject your home to a case of limp and sagging throw pillows!  To keep your pillows looking plump and fresh, always use oversized inserts.
Pillow Cover with a too-small pillow insert - see the wrinkles?
What is an oversized pillow insert?  The insert should be 2" larger in each direction than the pillow cover. This means my 20" square throw pillows have plump 22" pillow inserts inside them, and my 14" x 30" long lumbar pillows have 16" x 32" inserts.
Not sure what size insert you need for a pillow cover? Lay the cover flat to get an accurate measurement, and then measure top-to-bottom and side-to-side to determine the size.

Extra Long Linen Lumbar Pillow in Garden Pinks
4. Don't Skimp On the Stuffing
Have you ever had a pillow get lumpy and loose loft? Or had a feathers from inside a pillow stab you through the covering?
When it comes to pillow stuffing, there's a wide range of quality available. The pillow inserts at the craft store are made with inexpensive, firm polyfill that will lump quickly. Some inexpensive "down" pillows are just 20% down and 80% regular feathers that poke through.
At Janery I don't offer feather pillows because of animal cruelty issues and allergies, but I offer the perfect compromise!
Our pillow inserts are stuffed with imitation down, a fluffy polyester filling that feels as amazing as a down pillow and holds shape well over time. Plus, they're made in the USA in a small factory that I trust more than an overseas sweatshop.
Follow these tips to find fabulous throw pillows for luxury that lasts.
And if a Janery pillow catches your eye, you can shop with confidence. I've put a lot of thought into my designs, from the oversized, USA-made, faux-down pillow inserts, to the removable washable covers with hidden bottom zippers.
Want to stay in the loop with my latest designs, and get access to our exclusive private sales? Click here to join the Janery VIP club for these benefits, along with bimonthly emails.