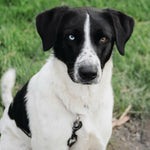 Finding Merlin, the Christmas Puppy
The pack of puppies stepped out in front of my car, oblivious to any danger.  The big black and tan leader of the pack watched warily as my car slowed to a stop.  I looked at Charlie in the back seat of my car, herself a former stray from this very neighborhood, and suddenly I was opening the door, climbing out, and cautiously approaching the pack of dogs. 
It was a rainy day in early April, I was driving through the neighborhood where I'd found Charlie.  When I'd lived there, it wasn't unusual to see a dog roaming the street. I never knew which were strays and which just had irresponsible owners.  One pair of strays was so street-savvy that animal control had been unable to catch them for years. 
On this day, though, the motley pack of dogs seemed frozen in place as I exited the car and began to approach.  I was slightly unnerved by the intense gaze of the Rottweiler.  He didn't trust me, and I didn't trust him. 
But before I could get too close to the pack, a small black and white puppy broke away and came up to me, and as I knelt down to him he wriggled right into my lap.  When he cocked his head and looked up at me with one blue and one brown eye, and I was gone. 
I didn't need another dog.  I had three cats and two dogs, and I was working several jobs while finishing my last semester of college. 
As the black and white puppy cuddled in my lap, the rain began to fall harder. 
I scooped up the puppy and stood there, unsure what to do.  What if this was someone's puppy?  I wrestled with my conscience, thinking that anyone letting their puppy run loose in the city shouldn't have a dog.  Then I saw an old man sitting under his covered front porch, watching me with what I'm sure was wry amusement.
I can only imagine what he was thinking….
I waved and said hello, and then I wondered if the puppies were his.  Never too shy to talk to strangers, I approached and asked him about the sweet boy who was now wriggling in my arms and licking delicate kisses on my face.
The puppies were indeed strays, born on Christmas to a white German Shepherd down the street.  I knew that dog.  I'd driven by her house many times, my heart breaking each time I saw her on a short metal chain in a patch of dirt, with only a decaying dog house for shelter.   I'd also seen her running free in the neighborhood, but I don't know if it's because she escaped or the owners let her off the chain to roam.
The rain was pouring down now, soaking me and the puppy as the old man talked to me from his covered porch.   After I learned the full story, I snuggled my Christmas puppy close as he licked my hands, and walked back to the car.
It would take me a few days to settle on just the right name for Merlin, the black and white puppy with the one magical blue eye.
Click here for Merlin's story, part 2.
Epilogue:
We said goodbye to Merlin in July of 2017, after he suffered a fatal and unexpected heart problem. The last of my Richmond street pups who inspired Janery, his passing truly marked the end of an era.