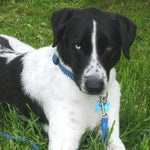 Merlin's Story, Part 2: How to potty train a puppy, Merlin style
On the day Merlin crawled into my lap on a rainy street in Richmond, I had no idea how to potty train a puppy.  
I worked in a vet hospital and with animal rescue - but my first foster dog had been a potty-training failure.   But I did know a 3-month-old puppy couldn't be expected to hold his bladder all day in the crate, unlike Charlie.
The only problem?  I was finishing my senior year at the University of Richmond, and I had several long days of back-to-back classes.  This left other days open for the many jobs I'd acquired during my break from college - working at a veterinary hospital, teaching at a private school, and teaching private violin lessons at home on nights and weekends.
On those long days of classes, I did the only thing I could think of: I brought Merlin to school with me, and I ended my college career with a tiny black and white puppy sitting under my chair in class.
I'm amazed that I had the nerve to try it, and even more amazed that the professors let me get away with it.  
This ridiculous behavior worked, but only because Merlin was practically perfect, even as a puppy.   He'd curl up under my chair, occasionally raising one lazy eyebrow at the sound of a trombone, or the animated enthusiasm in a professor's voice.  But under the chair he stayed.
(If only I'd had a Merlin Mat to put him on!)
When class ended, we'd head straight outside where I'd say "go potty" until Merlin relieved himself on the grass.  Then Merlin would pounce around the green, soaking in the adoration of all the students.
On the nights I taught violin students in my home, Merlin would revel in the attention from them and their parents.
Many long evenings were spent in the music building, including some all-nighters.  Merlin was at my side for all of them, and quickly became the most popular "man" on campus. Taking him outside for a potty break forced me to get a breath of fresh air, and soon other students were asking to take Merlin out for breaks.
I know what you're thinking.  A 3-month-old puppy must have been a disaster.  But he wasn't, for several reasons:
Merlin was constantly given opportunities to go to the bathroom outside.
Merlin was constantly receiving love and attention, so his mind was occupied.
He had a lot of exercise, running and playing and going for walks with all my classmates.
Most importantly, Merlin was just a chill, calm dog by nature.  Even as a puppy. He learned very quickly, and could read the energy in a room to know what was expected.
One day I was getting dressed to leave for school, and I couldn't find my shoe. Talking to myself as I hurriedly hunted for it, Merlin went trotting out of the room and came back a moment later, the missing shoe resting in his mouth.  I opened my mouth to correct him, but stopped as I realized - he'd simply brought me my missing shoe. He wasn't chewing it.
Merlin was never a trouble maker, at home or on campus.  Maybe those early days of adoring fans formed his chill attitude - or, more likely, it was just how he was born.  For the next 14 years he would be content to regally lay on any bed he could find, just waiting for people to come fawn all over him.
And they usually did.
In the end, I graduated college with a house-trained puppy, and dozens of students had their stress levels lowered by the silky, wriggling, mystical puppy with the piercing blue eye.
PS:  Are you wondering how to really potty train a puppy?
While ridiculous and unconventional for sure, my situation with Merlin actually provided many of the basic pillars to support positive puppy potty training - mainly, frequency and activity.  Every time he was roused from rest, he went outside. I repeated the phrase "go potty" over and
First thing in the morning

Last thing at night

After playing

After spending time in a crate

Upon waking up from a nap

After chewing a toy or bone

After eating

After drinking
This article from the American Kennel Club is a great resource if you're new to potty-training dogs.  
Epilogue:
We said goodbye to Merlin in July of 2017, after he suffered a fatal and unexpected heart problem. The last of my Richmond street pups who inspired Janery, his passing truly marked the end of an era.