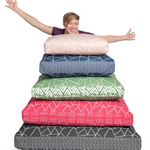 Janery Had an Amazing Year, and It's All Your Fault :)
I know it's already February, but it took time to find the words to thank you for last year - for your business, for your enthusiasm, and for being you.
I learned quite a bit in 2017, and I'm most grateful for Janery customers. Not just because we had our best year on record, not just because we got great press,  but because of who you are and what we were able to do together.
You bring out the best in everyone.
If last year taught me anything, it's that anything is possible. Thanks to your support - and your patience - I closed the year with an amazing partnership: I hired a local, ethical factory to help create my products, like my waterproof dog beds. This means more skilled labor jobs for Americans. It means more opportunities for those living in rural North Carolina and Detroit.  (And this year in Maine, if all goes well.)
These are some of the most underemployed parts of the country. Sharing this part of the business was difficult for me, but it was made easier knowing that other people would benefit from it. This doesn't mean I'm more hands-off. I've just brought more hands in. And that means big things for Janery, for working families here at home, and for you.

You care.

We donated over $1500 to local animal rescues and homeless outreach. By supporting Janery, you helped homeless veterans, comforted a sheltered pet, supported ethical manufacturing, and showed pride in American-made products and materials. You did it with style and without a second thought.
You really love pictures of cute pets.
I can always count on pictures of adorable animals to make me smile, and I'm glad you feel the same way. Thanks for tagging us on Instagram and chiming in on Facebook - our pack keeps growing, and it's so much fun.  (Have you entered our #JaneryStyle contest?)
You love a good deal.
Well, this one kind of applies to everyone. The reason I singled you out, though, is because I have some great news.

I did a bunch of nerdy data analysis, and I've lowered the price on throw pillows and covers. Want to add flair to a bedroom or your living room couch in mere minutes? Save even more time and money with our new Pillow Collections, now available in chic sets of two and three - priced at 10% less than individual pillows.

You aren't afraid of real life.

I know this because Janery makes a dedicated, thoughtful effort to give everyone a soft place to land - and to make sure that place can be easily washed on occasion. You know you don't need to sacrifice form for function, and you don't sweat handprints or muddy paws or . . . anything else. That's what I love about our products, and what I like about you.
Janery is a small business with a big heart, and I'm keenly aware that making great products and doing great things take more than just one person. Thanks for being such a vital part of the adventure last year.
What adventures will this year bring? Stay tuned, and stay cozy! :)