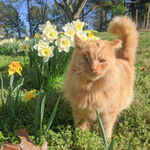 Love Your Pets but Hate Your Allergies? Try These 4 Tips.
Last spring, allergies hit me like a wrecking ball.
I was cooped up indoors for weeks. I was out of breath and couldn't think straight, and I walked around in a perpetual fog.  It was the absolute worst. 
Eventually, red-nosed and watery-eyed, I sneezed my way to my local allergy clinic. While I was less than thrilled about my Asthma diagnosis, my allergist had me try a number of tips and tricks around the house that actually made a world of a difference for me. 
I promised myself I'd come back this spring to share them with you. 
By the way, the products I recommend below are actually things I use and love. I am NOT compensated for these recommendations, and I'm only suggesting them because I've tested (and loved them!) myself. 
Allergies may rock your world, but they don't have to rule it. These four tips will keep you breathing easy all season long:
Pet Allergy Tip #1: Get a vacuum that
really
sucks
I know, a new vacuum is probably the least exciting purchase you'll make this summer. It feels about as good as buying new tires.  But a well-placed investment today keeps that pesky pet dander at bay! 
To combat the worst of my allergens, I upgraded to a Miele. Full disclosure: this vacuum was an investment. But with proper care, I know it's going to last for years. With 5 pets and 2 kids all running around, anything that makes quick work of these messes is worth the investment!  
My Miele's vacuum bag and HEPA filter capture dust mites, pet dander, and all the smelly stuff clinging to my floors and furniture. So my house is finally clean— like really clean— and the air smells fresh too. Plus it's exceptionally easy to use. The product designer in me appreciates Miele's attention to every tiny detail.
Pet Allergy Tip #2: Sweet dreams start with a high-quality air purifier
I was surprised to learn how big of a difference keeping an air purifier in your bedroom really makes. Air pollutants, like pollen, pet dander, cooking fumes, household chemicals, and dust actually impact your sleep. If you wake up congested every morning, you know exactly what I mean.
I set our new Airmega purifier up in the bedroom so it's constantly cleaning the air overnight. And this thing pulls everything, I mean everything, out of the air. Even viruses and bacteria. I'm sleeping better already— partly because I now know I'm not inhaling pet particles all night!
Pet Allergy Tip #3: Out with the old (rug), and in with the new
In our entryway we used to have this giant, fluffy rug. And let's just say, between pet accidents and kids running in and outside,  that rug has seen some things. 
At my allergist's suggestion, I swapped our rug out for a new (and surprisingly pretty - see vacuum photo above!) indoor/outdoor rug.
Unlike our old one, this rug has a tight, flat weave. That keeps mud, dust, hair, dander, and everything icky from getting trapped in the pile. It's a breeze to vacuum and I can wash it right off with my garden hose. 
Even with a low-pile rug, I learned it's important to keep it clean. Paws and feet constantly track pollen and allergens onto the rug where a minor disturbance can trigger an instant sneeze attack. But a quick clean once a week stops the sneeze before it starts!  And at the end of this pollen season, I can hose it down to get it extra-clean. 
Tip #4: Give your pet beds a regular wash.
Did you know pet beds should be washed at least monthly?  That keeps the sniffle-inducing pet dander down to a minimum.  Plus, there's nothing like a house full of freshly washed dog or cat beds to usher in that wonderful clean-home smell.
Our rescued Poodle, Amber, worrying we'll take her Waterproof Dog Lounger to give it a spin in the washer :)
To sum it all up, the best way to control your pet allergies is to keep a clean home. And the best way to get it done is to make it as easy (and as fun!) as possible.
That's why Janery offers a full line of easy-care, washable, and waterproof pet beds that are bound to become the most effortless part of your cleaning routine.
I believe style is nothing without functionality and homes are made to be enjoyed. Every dog bed, cat mat, furniture protector, and everything in between is washable, livable, and lovable. By you and your pet. 
To create your own easy-clean, fabulously chic home, just start shopping.