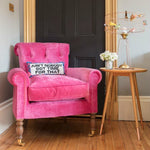 Velvet: A Surprisingly Pet Friendly Furniture Fabric
When choosing pet-friendly furniture fabric, velvet is a gorgeous and luxe choice. But because it's a fabric that seems more delicate than it really is, it's not always the first pet-proof textile that comes to mind! 
(Pink chair image credit: The Pink House.)
If you're in the market for a pet-friendly couch or a fabulously fur-repelling chair, you're in luck. Because the magnificently resilient velvet styles are definitely having a moment. 
And unlike some home decor trends (ahem, shiplap?), velvet is as timeless and classic as it is life-proof. So that chic couch you buy won't feel dated by the time it arrives. 
A few years ago, my husband and I decided to reupholster our old Crate & Barrel sofa. Their standard fabric upholstery was not built for our family! (I guess 2 cats and 2 dogs proved to be too much. Can't fathom why!)
That fabric, while beautiful, attracted stains, pilled easily, and its rough surface held onto pet hair for dear life. And the basket weave texture? That became our cats' favorite place to stretch and scratch. 
I wanted to revitalize the sofa with a rich purple velvet. A showstopping color for our living room showpiece, right? But my husband seemed to think a bold plum was more dated than dashing. Let's just say we agreed to disagree!
So, I gathered data to convince him that velvet can create stylish and cat-friendly furniture that's on trend and on budget. At the time, there wasn't much information out there. But today, velvet is everywhere! It's quickly become one of the top pet-friendly furniture fabrics.
(Interior design & photography by Laura Metzler )
What makes velvet the perfect fabric for a pet-friendly couch?
Velvet is a woven fabric, but the threads are cut short to give it a minimal pile. Think of velvet as a very thin, tightly packed rug. That's why the fibers release pet hair so easily, rather than trapping it like traditional woven fabrics. 
Velvet can be made with many fibers, from the more affordable and washable polyester to the more luxurious wools and silks. And as an added bonus, most cats don't like to claw it, because it lacks that tempting tactile texture. If they do claw it, the open pile doesn't snag the way a woven fiber would. 
Velvet isn't just pet-friendly— it's great for everyday uh-ohs!
In fact, applying a protective coating, such as Scotchguard, helps velvet repel stains and spills even better!
We had our upholsterer do this professionally when they recovered a vintage chair in navy velvet for our baby's nursery. And this proactive and protective tip works for most fabrics— not just velvet.
(Photo By Laura Metzler Photography)
Why I love decorating with velvet furniture….
There's a vibrancy to velvet that adds a touch of gorgeous glamor to any room. The fabric complements almost every design style— from Art Deco and English Country, to streamlined Modernism— and it comes in every color you can imagine!
And don't get me started on how amazing it looks in this dining room.
Velvet adds a touch of lived-in warmth to the room. And it's a nice alternative to traditional (and less-than-comfortable) wooden dining room chairs.
I've always loved upholstered headboards, but many are covered in woven fabric. That's a definite NO in our pet-friendly house! My cat would like nothing more than to stretttttch her paws up to the top of that headboard and raaaake those claws down through a rough woven fabric.
But velvet, being the pet-friendly furniture fabric it is, offers the softness of a woven headboard without the feline attraction. 
When I start our master bedroom update, my first DIY project will be to upholster our big headboard in a deep peacock blue velvet, like this image above. I have a thing for all shades of blue-green! And I love how a pop of color can refresh the whole room.
I'm still dreaming of my purple velvet couch. But I've got a beautiful velvet slipcover in my cart right now!
As much as I longed for the rich hues of a plum-colored couch, we agreed to order a gorgeous velvet slipcover for our beloved Ikea family couch. While far from my vision of luscious purple opulence, I know it will stand the test of time— including pets, toddlers, and the occasional wine-spilling adult ;)
(Design & Photography by Laura Metzler)
By the way…Janery's full line of cat and dog beds give your pets the ultimate throne— that's all their own.
Spare your new velvet couch, rug, or favorite chair and give your pet a cozy spot to lounge. The Memory Foam Charlie Cushion offers your pup a soft place to land, and the Catnip Cuddler's irresistible scent and bolstered sides hug your cat in snug serenity. Why give up your spot when your pet can have the best seat in the house— designed with their comfort in mind.