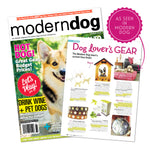 Spotted: We're in Modern Dog Magazine!
I am excited to announce that our Charlie Cushion is featured in the spring issue of Modern Dog Magazine!
Our adopted Poodle, Amber, is still bouncing around the house, excited by her first time in print. Or maybe she just needs a walk. ;) But I digress...
It's always thrilling to open an email from an editor at a publication I love, and being featured in magazines like this never gets old.
So, what will you find in Modern Dog? Our fabulous Charlie Cushion in this season's Gemstone Ruby pattern along with one of our gorgeous reversible Ruby throw pillows to match.
Modern Dog Magazine totally understands Janery's vision for fabulous pet beds that handle whatever life throws at them (literally) - and I love that they get it!  
You may have pets that have the run of the house, but you really don't have to sacrifice style for function. I'm passionate about making home and pet products full of easy, chic style - even huge pet beds.
PS:  Stay tuned for more exciting news coming soon. And if you're not part of the VIP Club, trust me - you should be! Join here.