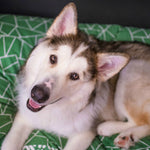 Meet the Janery Model: Kota
You might recognize our latest Janery model, Kota. He was included in our #JaneryStyle post back in November of 2017. I just couldn't resist those big, beautiful eyes and knew immediately that I wanted him to be one of our models. His feline brother and sister, Lucy and Leo who we shared last month, are also two of our models. What can we say? It's a family full of fabulously photogenic pets!
Kota's mom was generous enough to answer a few of my questions so I could share more about this fabulous boy with you.
How old is Kota?

Kota is approaching 11 months old.
What kind of dog is Kota?
Kota is an American Alsatian, a breed in progress. We've done a DNA test as well, which shows him as 65% Alaskan Malamute, 30% German Shepherd Dog, and 5% Akita.
How did he join your family?

I have always dreamed of getting a big dog, ever since I was a kid. Finally, the opportunity presented itself with a great breed and the perfect pup for me, so I went for it. I had to move to large-dog-friendly apartment for him, but it was totally worth it.
What are some of his funniest habits?
He has a specific location in our apartment that he likes to eat his treats (a rug in our living room). If I don't let him eat it there, he'll hold the treat in his mouth and whine!
What's Kota's sleeping style?  Is he a curler-upper, a stretcher-outer, or a flop-down-anywhere sort of pet?

Kota is a flop-down-anywhere (must be on the hardwood floor for optimal coolness), stretcher-outer kind of dog. Sometimes he'll even sleep on his back! Keep in mind, Kota is about 120 lbs, so when he flops down it makes a loud noise from him hitting the floor. I'm pretty sure my neighbors below me hate me (sorry!).
What kind of treats does he go crazy for?
Kota loves all treats. His favorite is probably the lamb ears from Real Pet Food.
How has he changed your life for the better?
Owning a dog definitely has its struggles, but it is so totally worth it. I can't imagine not having my giant buddy follow me around and making sure I'm always within his sight. Plus, he makes a great body pillow.
You have two cats, Leo and Lucy - how does Kota get along with them, and who came first?
Kota absolutely LOVES the cats! Kota is the newest member of our family, but he is certainly not the shyest. His favorite thing to do is groom/nibble the cats and leave his slobber all over them. The cats will tolerate it sometimes, but more often than not, they'll get fed up with it and swat Kota on the face. Believe me, he will never learn.
What has been your biggest challenge with raising Kota?
The puppy months were crazy. Potty training from the 3rd floor is not easy, let me tell you. Another obstacle was getting him comfortable with being alone, without disturbing my neighbors. I figured out that if I left him together in the same room as a cat, he would be much calmer than if he was left by himself.
Do you have any advice for apartment-dwellers who are considering adding a dog to the family?
Be prepared to climb a lot of stairs (or ride a lot of elevators, if you have those) during the puppy months. Also, be sure to check the weight limit for dogs before moving into an apartment. For high-rises, there is usually a 40lb weight limit, so you'll need to find a low-rise apartment with stairs if your dog is larger
Aren't Kota and his siblings Leo and Lucy the perfect models for our fabulous pet beds? We sure think so. Special thanks to their mom for her photography and taking the time to answer our questions on their behalf. You can follow both Kota and Leo on Instagram.
Kota is an American Alsatian. He is pictured here on our HUGE sized Charlie Cushion in Emerald.