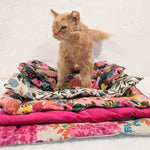 Happy Ever After Collection Release Guide
Do good that feels good.  Like a nice scratch behind the ears.
Celebrate the fairy tale ending for KG the Stray cat with the Happy Ever After collection, and sleep easy knowing that your purchase will help with his medical costs - or those of cats at the Richmond Animal League.
I am so glad that the journey of KG, the stray cat who adopted my family, has brought so many of you moments of joy. And I'm with you - seeing him blossom as he finds his happy ever after has been the best gift to our family during this unusually trying time.
It's hard to believe this one-eyed ball of love has come so far in just two months.  He first skulked down our driveway in the night, a fearful, scraggly, matted skeleton of a cat.  With love and patience, he's blossomed into a big plump ball of love who lives for cuddles, time with the kids, and walks in the yard. 
As KG captured your hearts, many of you asked how to help - and I love you for that!  I've created the Happy Ever After collection just for you.  40% of the Happy Ever After sales will help with KG's current medical needs. Excess funds will go to the Richmond Animal League to assist with their domestic and feral cat rescue programs.
The foundation of this limited edition collection is one of my favorite Japanese linen fabrics, which has been out of print for years. It was one of the first fabrics I used when Janery was born over 10 years ago, and I'm happy to share the last of it with you in this heartwarming encore.
What's in the Happy Ever After Collection?
The collection includes several colorful botanical prints, and will consist of 20" square throw pillows, refillable Catnip Mats, 18" Catnip Kickers, 10" Catnip Logs, and a few face masks.  
Here's what you need to know:
1.  Quantities are very limited, so be sure to join the VIP Club for access to the private release on Thursday, June 30, at 9 pm EST.
2. Catnip Mats will not be filled with catnip until they are packed for shipment. If you're ordering one for a small dog and would like to omit the catnip, let me know in the notes box at checkout. 
3.  The Woodland Catnip Mat is 23" x 21" -  slightly larger than our standard Catnip Mats.  It has the Woodland fabric on the front, and a coordinating flax fabric on the back.
4. Giving a gift? If you purchase a cat bed as a gift (with or without cat toys), please use the notes box to request a complimentary gift box.
⁠5. The Catnip Kickers and Catnip Log toys provide hours of fun, while helping us keep fabric out of landfills.  Therefore,  they vary in thickness - some are wider than others, though all are fabulous and equally filled with our stemless catnip. 
6. The pillow covers have Woodland fabric on the front, and a coordinating flax fabric on the back.  A zipper opening is concealed in the bottom seam.  They measure 20" square, and will be sold without inserts. If you need an insert, I'm happy to help.  
7. Shipping:  Orders placed before July 4th will ship by Monday, July 6. Janery will be closed (and not shipping orders) during the week of July 4-11.  
*Due to the limited nature of this collection, discount codes will not apply.