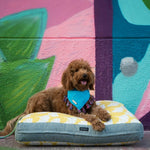 Meet the Model: Kiara the Mini Goldendoodle
When I spotted Kiara on Instagram, I just knew that she'd be a fun and fabulous Janery brand ambassador. Her colorful, abstract photos and cool Miami vibe make me all kinds of happy, and I bet you'll love them too.
The adorable mop-topped pup was the real star for me, though. Kiara's beautiful, apricot curls and her sweet smile are irresistible.  
Knowing there had to be some great stories behind this photogenic Doodle, we asked Kiara's mom to do a little interview with us:

How old is Kiara?
Kiara turns 2 on November 16th.
What was the inspiration for Kiara's name?
I love the movie The Lion King. It was my favorite Disney movie growing up. In the second movie, Simba's Pride, Simba and Nala have a baby girl named Kiara. I always thought that name was so beautiful and knew I wanted to name my first female dog this.
How did Kiara join your family?
My husband and I thought long and hard about the responsibilities of owning a pet. I was the one that really pushed for a dog since I work from home most of the time and really wanted a companion. I'm allergic to dogs that shed so it had to be a hypoallergenic breed. My husband wanted an athletic dog. Once we met our friend's charming and friendly goldendoodle we knew this was the dog breed for us! We still researched the breed and looked for reputable breeders for months before we decided a mini goldendoodle would be a great fit.
What are some of Kiara's funniest habits?
Kiara is the queen of fetch. We were visiting my parents this summer (Kiara's grandpawrents) and they bought some new tennis balls for her to play with. If Kiara has easy access to tennis balls she will want to play fetch with you. 24/7. During dinner, she'd plop a tennis ball in my dad's lap. Then my mom's lap... and on and on it went.
She is also a champion swimmer. Her favorite thing in all the world is playing fetch at the beach, in a river, or a swimming pool!
The one thing Kiara can't do is go through a dog door.

What's Kiara's sleeping style?  Is she a curler-upper, a stretcher-outer, or a flop-down-anywhere sort of pet?
During the day Kiara loves curling up like a little fox on her Janery pet bed. At night she loves sleeping on our bed stretched out as far as possible giving us less room. Thanks Kiara.
What kind of treats does Kiara go crazy for?
Her favorite treats are definitely bully sticks. I don't let her eat a whole one at one time. She knows this now so when she thinks I'm not looking she'll run into the bedroom and bury it beneath our pillows.
How has Kiara changed your life/your family's life for the better?
Kiara brings so much light and love to our little family. She has such a positive energy and loves unconditionally. She is a constant reminder that these are qualities we all need to strive for.
Do you have other pets?
Just Kiara!
What has been your biggest challenge with Kiara?
We picked up Kiara when she was an 8-week old puppy so as to be expected we dealt with sleepless nights and the potty training phase. It has been so fun to watch Kiara mature and she is a very easy dog to take care of. We just need to make sure we give her proper exercise during the day.  Kiara needs to play fetch and run around for at least a half hour each day and I am committed to giving her proper exercise.
If you could give prospective or new pet owners one piece of advice, what would it be?
Have patience! We expected to have a few sleepless nights and accidents during potty training, and that is to be expected with any new puppy. This phase only lasts for a few months though. Once your dog gets older and learns your routine things get much easier. I'd also strongly suggest researching breeds you want and find one that best fits your lifestyle.
You can follow Kiara and all of her adventures on Instagram. I can't wait to see where she ends up next!
Kiara is a Mini Golden Doodle. She is pictured here on our Medium sized Charlie Cushion in Yellow Gingko.  All dogs - and Doodles - are different, so be sure to check out our size guide.