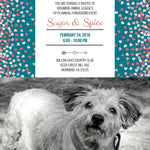 Richmond Animal League Sugar and Spice Ball + Silent Auction
Rescue pets have a soft spot in my heart. I found Charlie, my first dog, on the streets of Richmond, VA when I was working in a vet hospital there.  In fact, all five of my first pets were from the streets of Richmond.  (Yes, I said 5. Back then I had pretty open door policy for abandoned animals.)
It's one of the reasons why I dedicate a portion of my profits to rescue organizations around the country, and it's why I give Janery's Catnip Cuddlers and dog beds to shelters for their oldest residents to enjoy.  
It's also why I love the Richmond Animal League Sugar and Spice Ball + Auction, which is happening this Saturday!  We've donated to this special event every year since we opened our doors, and I was happy to send them a large Sapphire Charlie Cushion and our Cat Lady Starter Kit for bidding. I can't wait to hear how much they raise this weekend because I know they use every possible penny to help abandoned pets in Richmond and Chesterfield County.  
But here's the best part! The auction is online, so you can bid on them and support RAL too!

Sugarbaker is waiting for a home at RAL | Click here for adoption information
While I can't kick up my heels with the RAL staff, volunteers, and supporters this weekend, I'll be following along via their silent auction online. If you'd like try your chance at an auction win, check out their Sugar and Spice auction page. All bidding ends by 8 PM on February 24th, so make sure you hop over as soon as you can!

Merryn is waiting for a home at RAL | Click here for adoption information
If you'd like more information about the Richmond Animal League, you can find them by clicking the links below. Then, grab your tissues, and read how RAL made Christmas extra special for a sweet old Beagle named Griswold this year.  
Janery is proud to partner with worthwhile rescue organizations such as RAL, because, as I'm sure you know, doing good always feels good - like a nice scratch behind the ears. ;)
PS:  Speaking of RAL, did you see their senior residents enjoying our Catnip Cuddlers, Merlin Mats, Catnip Kickers and gourmet dog treats from North Woods Animal Treats? Every animal should feel special at Christmas and I'm glad Janery could be a part of the celebration.