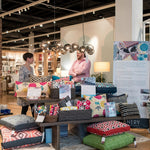 A Peek at Janery's West Elm Pop-up Shop
If you didn't get to check out Janery's pet beds and home decor at our recent West Elm pop-up shop, I've got you covered!
I love doing in-person events for Janery, because I spend so much of my time running Janery from behind a computer screen. Meeting customers in person is so much fun, and it's helpful to see which products people love most in my display.
Our West Elm pop-up was especially fun, because we had the beautiful backdrop of the home furnishings store. Seeing Janery's products displayed at the front of the store, on a fabulous dining table and bench, showed me just how well Janery's pet beds and home accessories complement the West Elm aesthetic.
There is always an element of suspense with in-person retail events. I never know how large the crowd will be, i.e. how many products I'll need in inventory! In the case of our West Elm event, Saturday was definitely busier than Sunday. And it was so interesting to see the difference in shoppers from Saturday to Sunday!
On Saturday, especially before 4 pm, shoppers were very relaxed, casual, and interested to browse. Saturday evening we watched the crowd quickly turn into a "going out" date night sort of crowd before we finished at 6 pm.
On Sunday, shoppers looked much more determined when they came through the doors of West Elm. They were at the mall because they had Important Things To Buy. And many of those determined shoppers spent a long time in West Elm - often over an hour.
Other observations: West Elm was very kid-friendly. We saw moms sitting on couches for nursing and bottle feeding babies, we saw kids playing on swivel chairs, and kids running through the store. The store associates were gracious about it all. 
Speaking of the associates, the entire team of West Elm associates were so enthusiastic, friendly, and helpful during the event. I can tell their store manager, Miller, has created a strong team and that can really make or break a store - and an event like Janery's pop up.
If you couldn't attend in person, but still want a chance to win a $50 Janery gift card, click here to join the Janery VIP Club by May 31!  

Big thanks to photographer Laura Metzler, who stopped by to capture this for all eternity!
PS: Being surrounded by West Elm goodies for two days was dangerously inspiring! I'll confess that I've already added some new West Elm to my home. . . and I still have more on my list for my One Room Challenge makeover that's in progress.