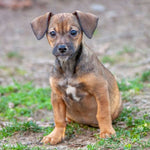 Animal Shelters Call for Foster Families During the Pandemic
As the world grapples with the serious impacts and social distancing required by the Coronavirus, animal shelters need your help more than ever.
They're searching for temporary pet foster families to help clear the shelters so that employees can work in the safety of their own homes. It's a win-win: you get companionship and laughs, while helping shelter employees and rescued pets.
Janery's philanthropic partner, the Richmond Animal League recently sent out a plea for emergency fosters:
"In response to COVID-19, we're trying to place as many pets in foster homes as we can."
Here are the answers to the most common questions about fostering shelter pets:
I have a kid / a dog / a cat - how do I know it's safe for me to foster a shelter pet?
The animal rescue organization will consider this information when they review your foster application. Reputable shelters always screen incoming pets for aggression and safety with kids and other pets. They want the foster experience to be safe and successful for all people and pets involved - so they will take care to make the right match when choosing which pet to place with your family.
I am on a fixed income - or - I don't have pet supplies.
No budget? No problem. The shelter will provide everything you need to care for the pet you are fostering.
Do I have to be a current volunteer with this organization?
No, you don't need to be a current shelter or rescue volunteer. Your application will be reviewed to see if you're a good fit.
My schedule is complicated. Can I just do it for two weeks?
Always ask - because for emergency fosters, the answer may be yes. The Richmond Animal League will accept short term fosters because in this unusual situation, every little bit helps.
At this time, RAL may have found all the foster families they need, but if you're local and want to sign up just in case they need more help, you can find their Emergency Foster Application here.
If you're not local to Richmond, VA, please consider calling your favorite local animal rescue organization to see if they need your help.