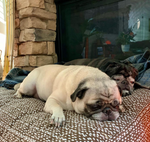 Meet Fiona Chalupa and Sofia Tortilla, Our Latest #JaneryStyle stars!
Congrats to our latest #JaneryStyle ComPETition winners, Fiona Chalupa and Sofia Tortilla!
What could be cuter than a cozy pup in front of a fireplace? Two cozy pups in front of a fireplace. And it would be hard to top this photo of Fiona and Sofia. Don't they look content on their Charlie Cushion in Earth?  
We asked their mom, Maricel, to share more about Fiona and Sofia's story. Our favorite part is their names! Here's what she had to say: 
How old are the members of your crew?
Fiona Chalupa (black) is 11 years young and Sofia Tortilla (fawn) is 7 years young.
What was the inspiration for their names?

Fiona is named after music artist, Fiona Apple, not Fiona from Shrek which is commonly asked and assumed. I guess she resembles her more. lol. Sofia rhymed with Tortilla. My husband and I have a love for Latin cuisine so their middle names reflect that. 
How did they join your family?

They were both adopted from the same pug lover breeder. Different parents but same breeder. 
What are some of their funniest habits?

Fiona will scream at people from afar if they don't acknowledge her presence. It sounds like she's being attacked so we're always embarrassed when it happens. Sofia loves to play ball. She's good at catching it! I don't think she's in the right dog breed body for her love of the game.
What are their sleeping styles? Are they curler-uppers, stretcher-outers, flop-down-anywhere sort of pets?
Fiona is a space hog. She will force herself to cuddle up and squeeze herself in with you eventually pushing you out of the space. Sofia likes to sleep above your head.
What kind of treats do they go crazy for?
They love eating bits of apples and pears from the smoothies I make.
How have they changed your life/your family's life for the better?
They're such a comical duo. Always keeps us entertained.
What has been your biggest challenge as a pet mom?
A constant worry and questioning of, Am I doing enough to keep them happy? Am I providing enough so that they're living their best life?
If you could give prospective or new pet owners one piece of advice, what would it be? 
Talk to them so they truly feel included and part of your pack.
Maricel shared the photo of her girls on Instagram and received a Sydney Hale candle (our favorite!) and a digital gift card to the Janery store. 
We love our Sydney Hale candles. They eliminate pesky pet odors, and each purchase gives back to animal rescue efforts. It's a win-win! 
Remember, you can share your #JaneryStyle anytime - even if you've had your Janery for months, or years even. Here's how to throw your leash in the ring for a chance to win a fetching quarterly #JaneryStyle prize package worth $86:
On Instagram:
Post

a pic of your pet enjoying a Janery product* on your

Instagram

account.

Tag

@shopjanery in the photo

Use

#JaneryStyle somewhere in the caption or comment so we know you're playing along!

Follow

@shopjanery on Instagram.

Enter

multiple times--just use a different photo each time!

Check

to make sure your IG profile is set to public so we can see it!
On Facebook:
Post

a pic of your pet enjoying a Janery product* on

Janery's Facebook page

.

Tag

@shopjanery in the post.

Use

#JaneryStyle in your post so we know you're game.

Follow

@shopjanery on Facebook.

Enter

multiple times--just use a different photo each time!
*No, it doesn't have to be a pet bed! It can be anything you've purchased from Janery. 
For full contest details click
here
.