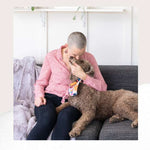 5 Ways to Show Your Pets a Little Love on Valentine's Day
There's no truer affection than the unconditional puppy love (or cat-love!) you enjoy from your sweet pet. And I firmly believe the pitter-patter of paws and the low rumble of a lap cat are the soundtracks to a happy home.
This Valentine's Day, why not do something extra special to safely spoil the pets who add so much love and joy to your life? While bouquets and chocolate boxes aren't exactly healthy for your pup or cat, I have 5 fun and fabulous pet-friendly Valentine's Day ideas you can use to show your pet just how paws-itively loved they are!
Make your pet's Valentine's Day with these 5 fun (and pet-friendly!) V-Day treats:
1. A new hike or a longer walk
I'm a huge fan of hiking with dogs. All of our dogs have loved long walks (especially Amber the Poodle!), and many times we've taken them to the mountains to burn off excess energy. The exercise is as good for them as it is for us! And hitting the trails is a great way to enjoy family time out of the house—away from screens and distractions.
If you aren't able to take a hike, try a nice long walk through the neighborhood. New scents will stimulate your pup's curious nose, and the energy they burn will mean a nice long nap (hopefully on a luxe Charlie Cushion!) awaits them back home.
2. A playful Pounce Pack for Cats
Nothing says I love you like a purrrfect box of kitty play essentials! Janery's Pounce Pack - a fabulously fun box of cat toys and rejuvenating Catnip Spray -  is the perfect Valentine cat treat!
The Pounce Pack offers your feline hours of catnip-infused play. There's also a surprise kitty-themed vinyl sticker inside each one. And because every toy is stitched and stuffed with love, using stylish remnants from our pet bed production, this Valentine's Day cat treat is good for your kitty and the planet.
3. Doggone delish dog treats
Forget chocolates…. Ava's Pet Palace salmon dog treats are the best snack a pup could beg for! Ava's single-ingredient treats are grain- and gluten-free, diabetic-friendly, and made without additives or fillers here in the USA. My pups can't get enough of these crunchy, single-ingredient snacks—and I love supporting Ava's sustainable manufacturing practices and commitment to quality.
4. Wag-worthy toys
New and varied dog toys can keep your pup sharp, playful, and stimulated throughout the day. Amber's favorite squeaky dog toys are made by Hugglehounds. I love that they don't fall apart while she gently chews them
(she loves the texture), and she loves the enthusiastic "squeak!"
*True story: she loves them so much that we now know to keep extras in hiding. She once ended up at the ER because we thought she was sick - it turned out she was just depressed because her ball was missing!
If you're treating your pup to a new toy, be sure to find one that can withstand your spirited chewer. Avoid toys that can be easily torn into small pieces, and look for high-quality options that are made without toxins or harmful chemicals.
5. A special homemade something
You don't have to be an advanced baker or gourmet chef to make a delicious treat for your dog or cat this Valentine's Day, but you do need to use pet-safe, veterinarian-approved ingredients. I was inspired to make dog treats based on this peanut butter pumpkin recipe.  For our feline friends, there's 5 scrumptious cat treat recipes that I can't wait to try here.
If you want to keep it simple and make your lovable pup think they're getting people-food, check out this list of acceptable snacks you and your pet can share. They'll never know it's good for them!
Bakers Beware: Always check your peanut butter's ingredients before sharing with your pup. Some brands contain Xylitol, which can be harmful to dogs.
There's nothing better than treating your most snuggly family member to something special, as long as it's safe, fun and fabulous. Happy Valentine's Day!
Note: Always ask your vet before treating your furry family member to something new. Treat in moderation.