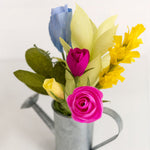 Artists You'll Love: Paper Rose Co handcrafted botanicals
With Mother's Day right around the corner, it's time for me to share another artist I love, this time in the form of a crepe paper artist - Paper Rose Co.  Yes, a Crepe Paper Artist. You may be just as surprised as I was to learn that crepe paper "hand crafted botanicals" existed!
Forget flowers that wilt and chocolates that disappear seemingly overnight - this Mother's Day, you can give your mom a paper floral bouquet that has all the bright happy vibes of fresh cut flowers, but without the wilting, drooping petals and the stinky old vase water.  
I discovered Carrie Walters and Paper Rose Co over a year ago, when I received one of Carrie's luscious true-to-life paper flower bouquets.  (You may have spotted it in the final photos of my One Room Challenge last year.)
But back to Carrie's work.  I was smitten with the lifelike blooms that she handcrafts from fine crepe papers and, sometimes, the whisk of a paintbrush. The bouquet that I have has retained its fresh spring color for more than 12 months, and it's so much nicer than those artificial silk flowers in your grandmother's house.  
I know what you're thinking:  Fresh looking flower bouquets that last forever? Sign me up!  But it gets even better when you learn about Carrie's work is her commitment to detail. Here's how she describes it:
"I source real flowers and dissect them to decipher the best ways to go about recreating their blooms out of paper. When I'm unable to get my hands on the real thing, I'll turn to my mom's old botany books to study their anatomical illustrations.
You will never find an unfinished stem or missing calyx when it comes to my blooms—I take pride in my extreme attention to detail and will not send out a piece that is less than what I consider perfect."
This makes my heart so happy, since here at Janery I also have strict standards for quality, and I refuse to pass on sloppy dog bed corners or misprinted fabrics to my customers.
I love about shopping with small artisan businesses, knowing that whatever arrives on my doorstep was crafted with love by someone with the same commitment to quality that I strive for at Janery.
And finally, if you're looking to celebrate an anniversary - why not make it a Paperversary?  Carrie's lifely recreations of wedding bouquets are so breathtaking that I wish I'd had a bouquet at my wedding . . . just so I could have it recreated out of paper!
The handcrafted botanicals from Paper Rose Co are truly beautiful works of art that can help any home's style bloom.  And if you're searching for a surprising, meaningful, and lasting gift for almost any occasion - stop what you're doing and take a peek! These are not your typical faux florals.  But be warned: these limited edition bouquets fly off the garden shelves quickly!
Paper Rose Co.